Setelah beberapa lama gak ada bahan mari kita bedah ni GBB yang saya peroleh dari Abank Bajaj
Tapi sebelomnya, mungkin perlu diketahui dulu, GBB ini full licensed dari Predator Tactical, namanya mungkin tidak seterkenal Salient Arms, Nighthawk, Kimber, Wilson Combat, atau Smith and Wesson, namun perusahaan ini pernah menjadi pemain yang diperhitungkan karena dimiliki oleh Matt Burkett. Namun sayangnya karena ada kasus, Predator Tactical saat ini tidak menerima pesanan lagi untuk firearms top line mereka.
Info 1:
https://www.ammoland.com/2016/01/ind...#axzz4jm7JXfeW
Info 2:
http://www.phoenixnewtimes.com/news/...ctical-9285149
Cukup untuk the story behind the gun, kita langsung ke versi King Arms nya:
Unboxing
Tidak ada yg spesial dari box mereka, kecil, nampak normal, isinya hanya GBB, manual book, 1 magazine.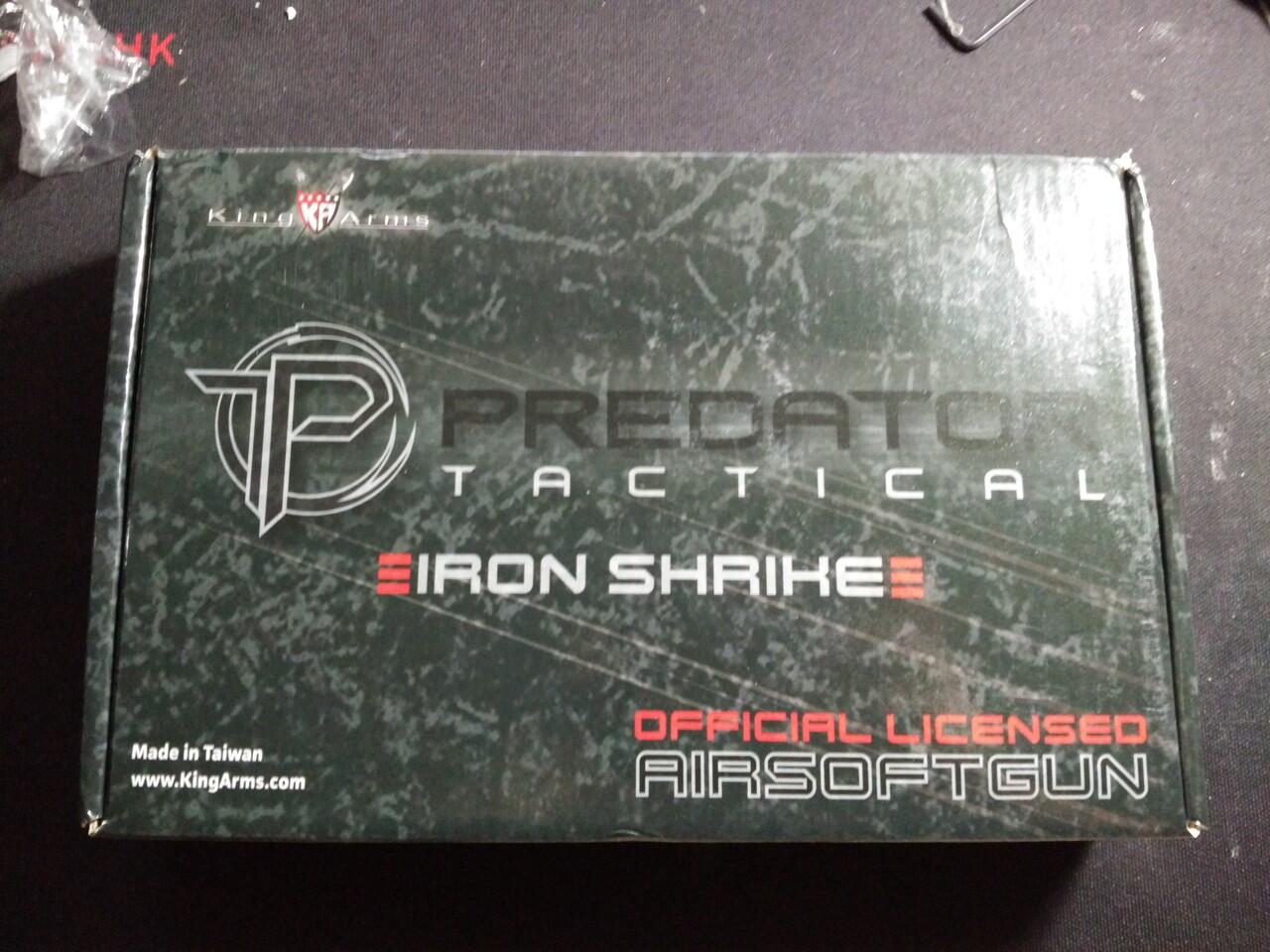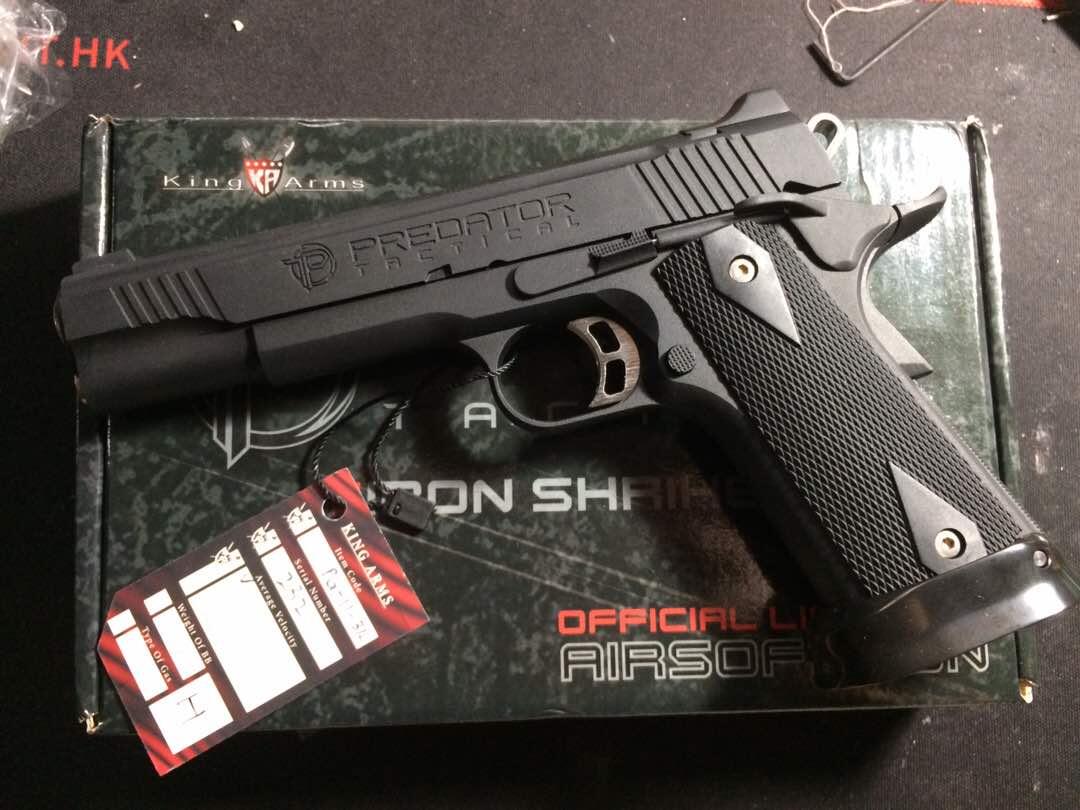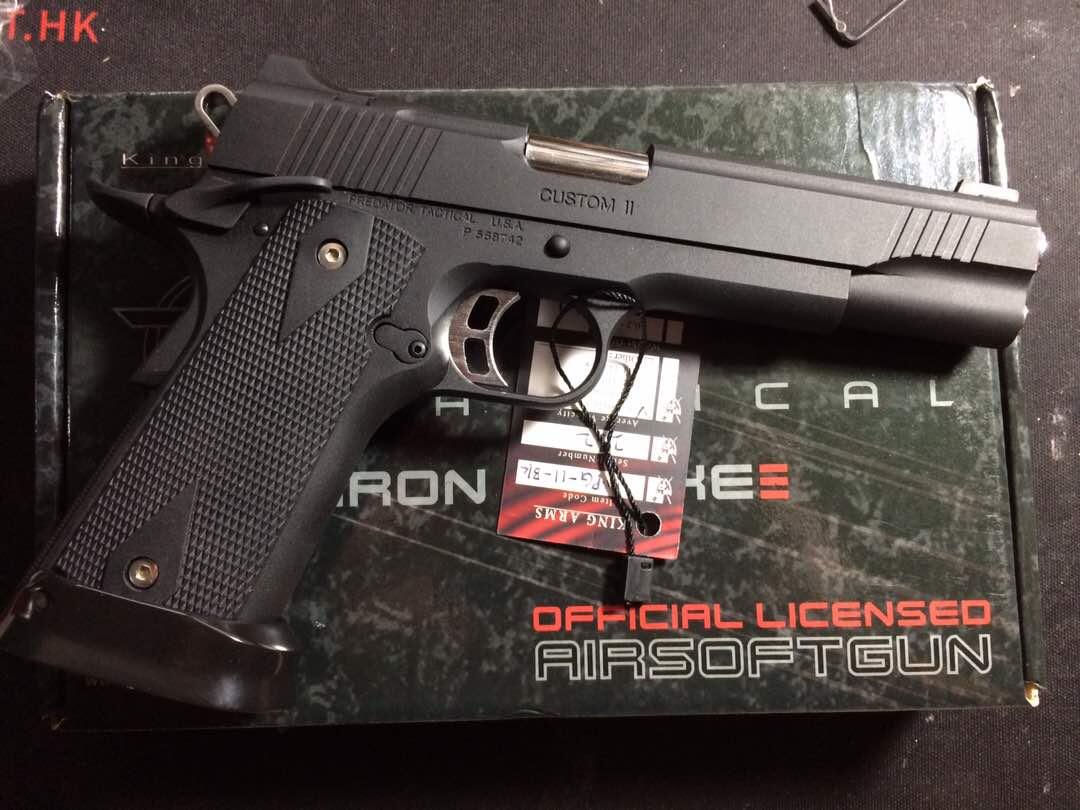 Tag yang ada di GBB itu untuk "hasil test" tertulis di sana FPS mereka 80-100mps atau 260-300fps. Hal yang akan dibuktikan nanti.
Marking
Marking mereka cukup dalam dan bagus, namun tidak banyak yang tertulis, sejauh ini hanya ada Marking Predator, Marking Lisensi, Marking Kaliber.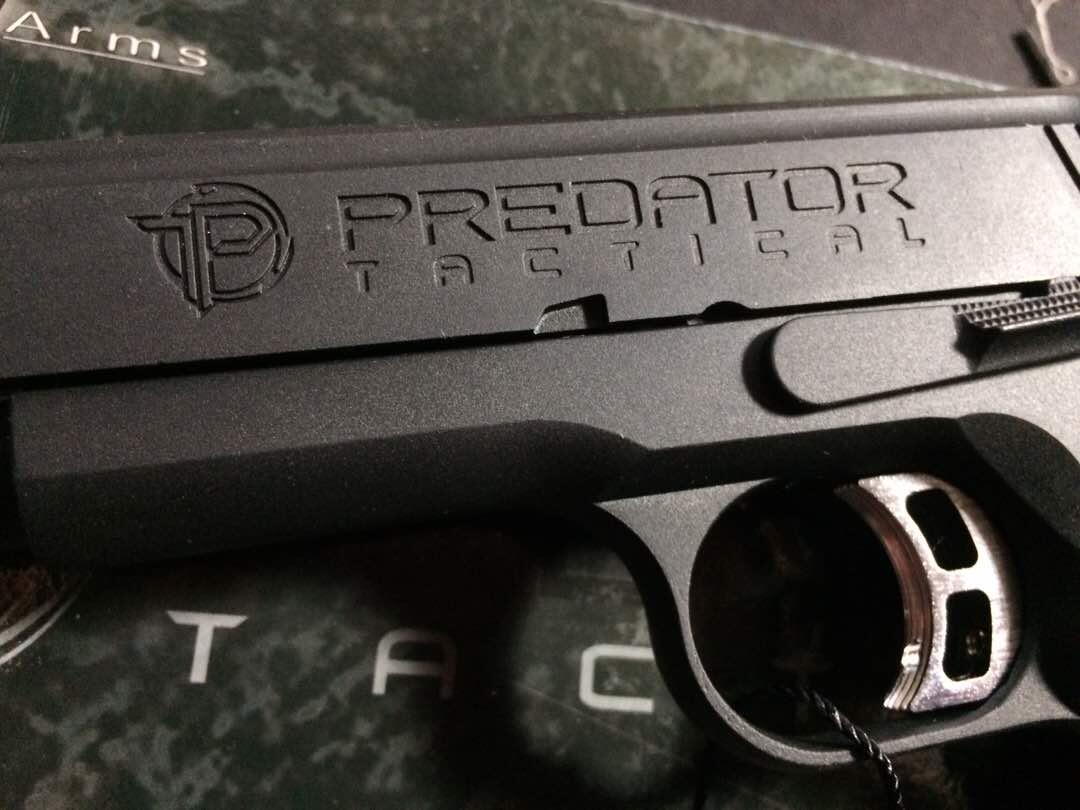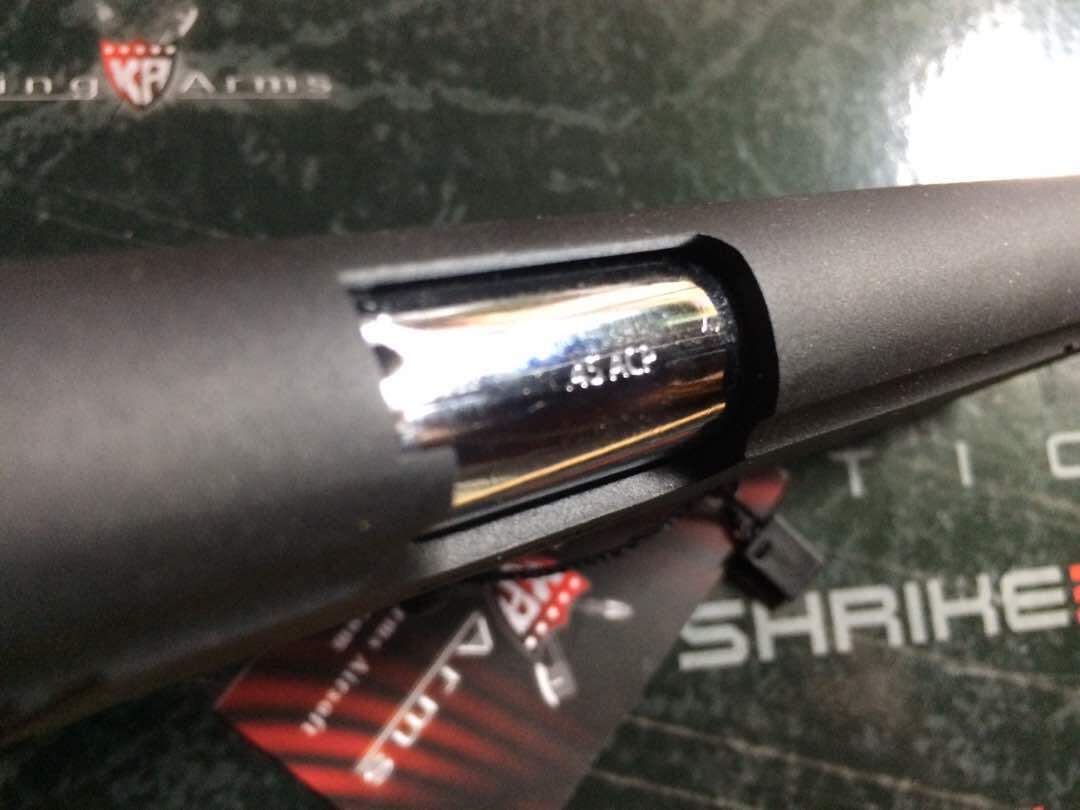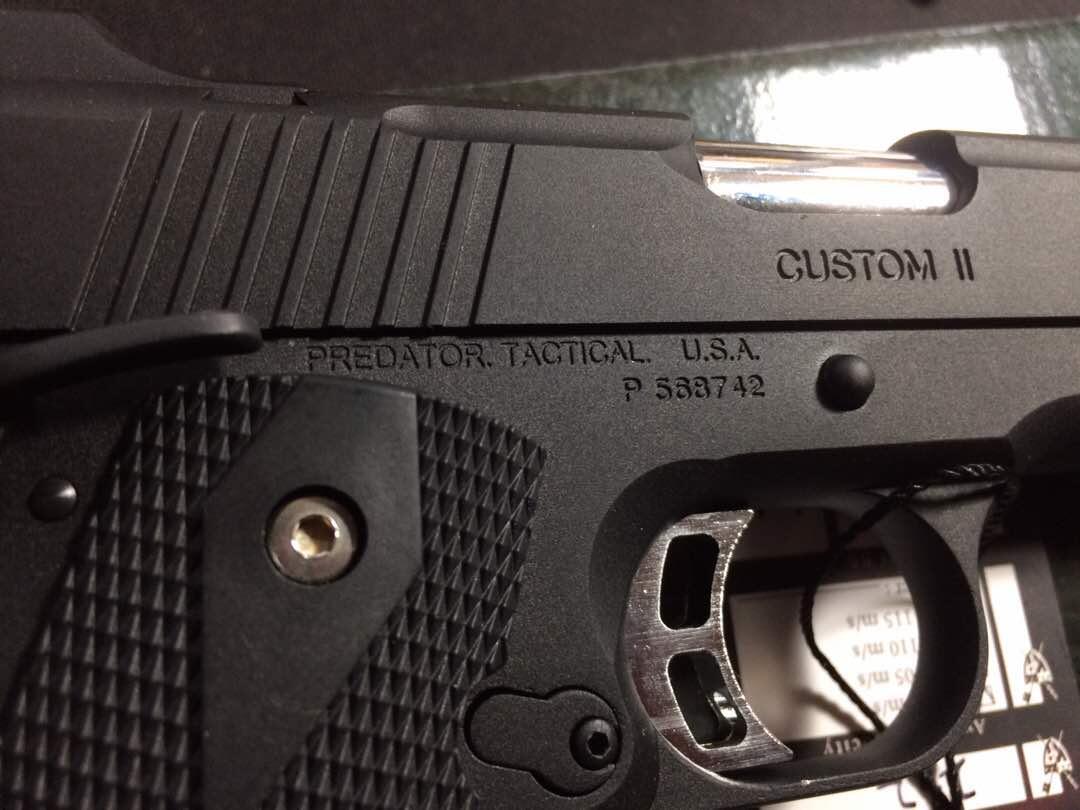 Closer Look
Hal yang sedikit berbeda, adalah Pisirnya, dimana Predator menggunakan pisir belakang tipe mirip Heinie Kimber Slant. Dan ini tidak cocok dengan pisir MEU, jadi jangan dicoba-coba, dibaut di blowback housing pula pakai baut hex kecil.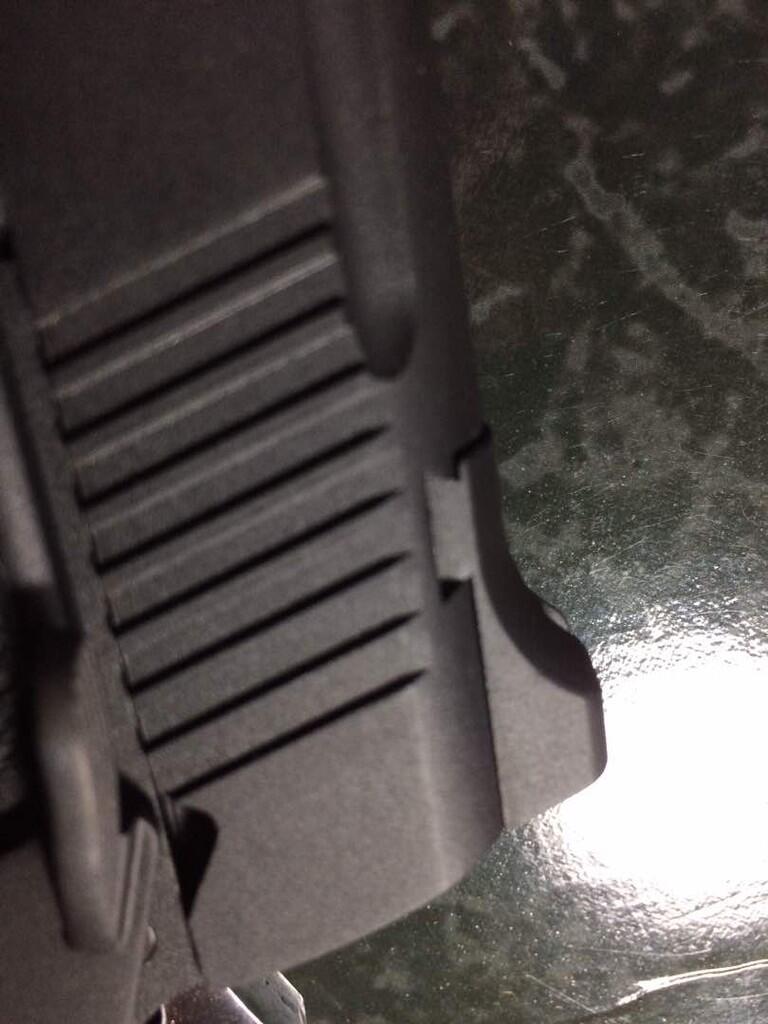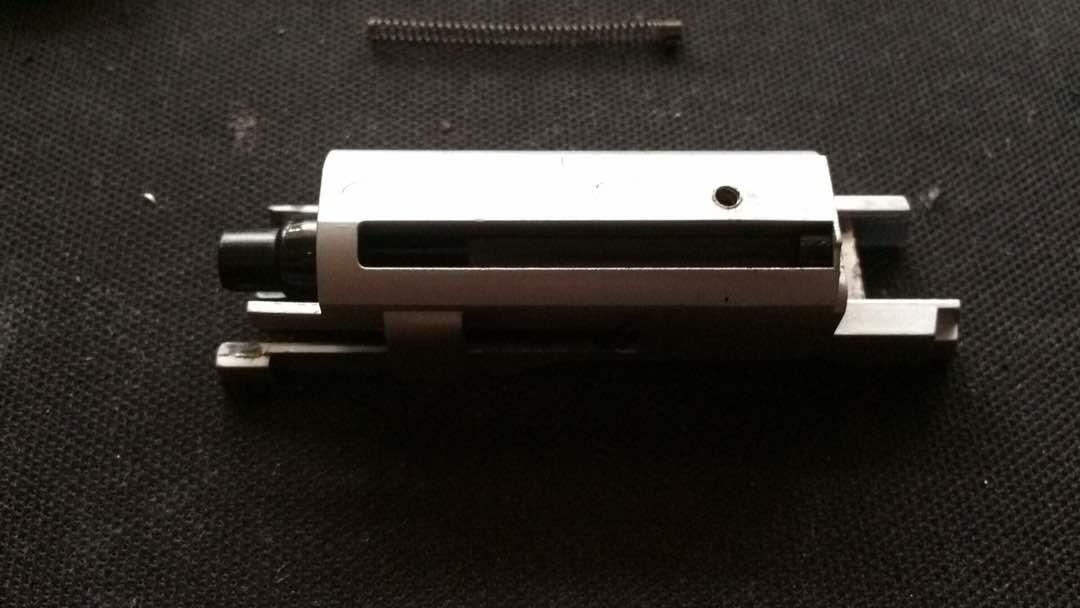 Magwell, terus terang ini baru namanya magwell, super enlarged magwell, bukan seperti NOVA magwell, TSC, Guarder, apalagi FAB Def magwell...yang ini benar benar besar, sangat membantu untuk reload, hanya saja kalau mag nya classic no mag bump base...mungkin anda harus berpikir untuk beli mag tipe MEU saja. Magwell desain ini bisa jadi terpengaruh Ed Brown maxi-well.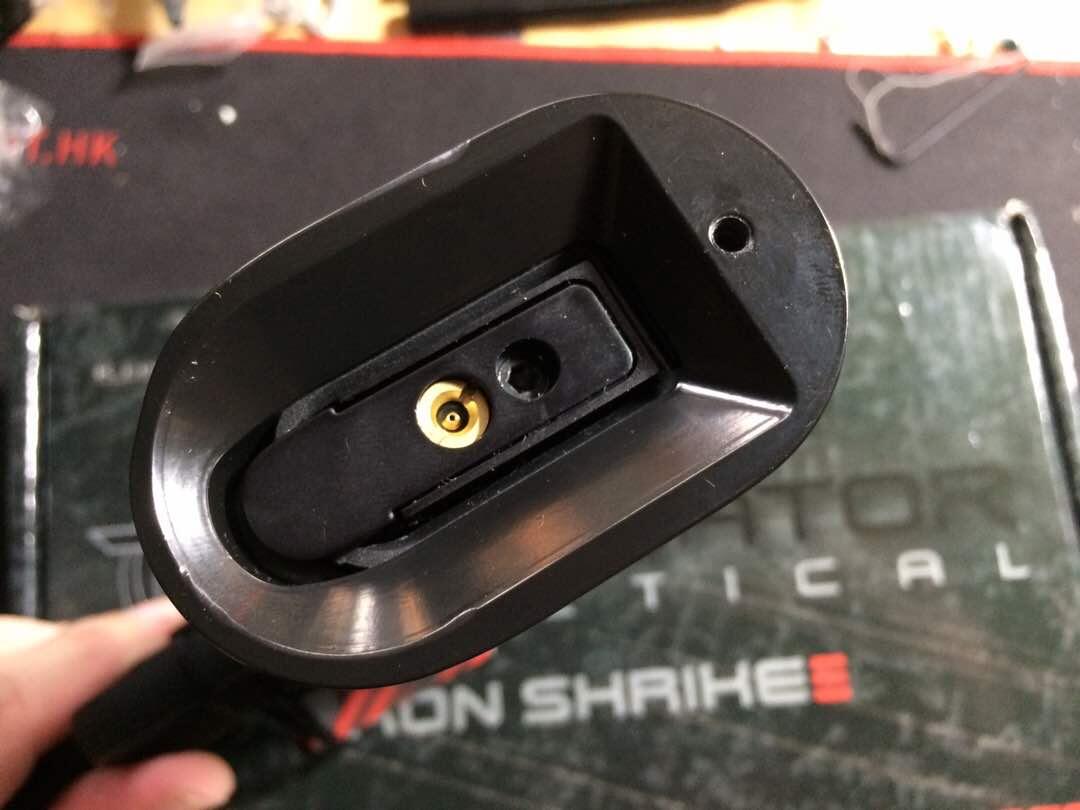 Compatibility
Seperti yang diduga, King Arms memakai Marui System, karena itu semua part disini sama dengan Marui, kecuali mungkin bentuk printilan seperti safety lever. Namun dengan adanya embel "MADE IN TAIWAN" di box, saya memiliki prediksi bahwa GBB ini mungkin dibuat OEM oleh KJ Works, buktinya ada disini:
Chamber yang memiliki pentul guide rod kecil, bukan pentul panjang seperti 1911 marui. Khas KJ Works KP07/05 series.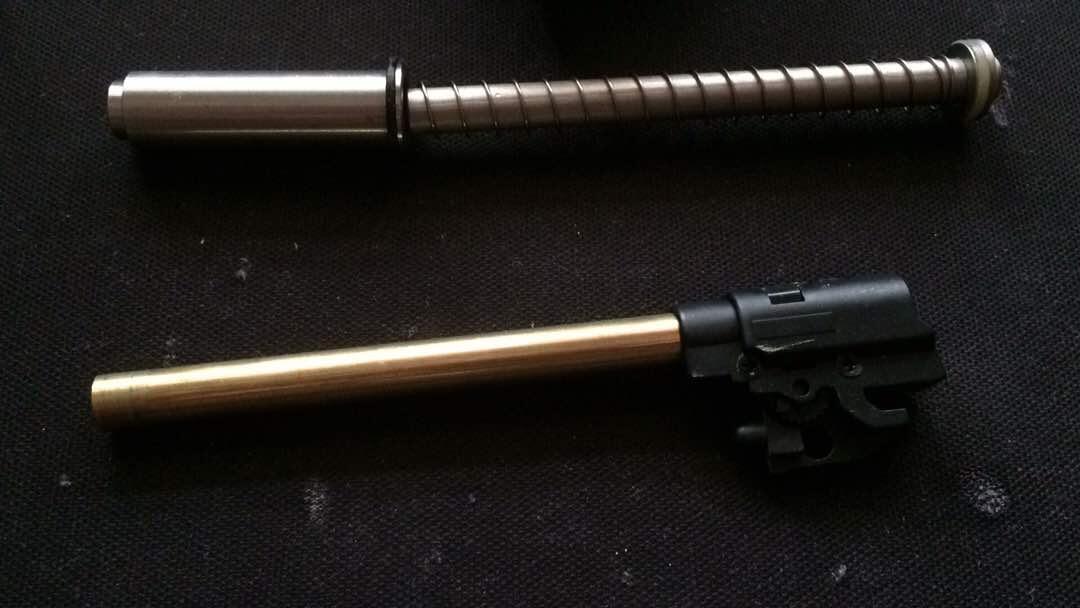 Magazine yang hitam legam dan memakai system marui tapi inlet nya berkepala besar, khas KJ Works juga..atau WE tapi WE gak begini.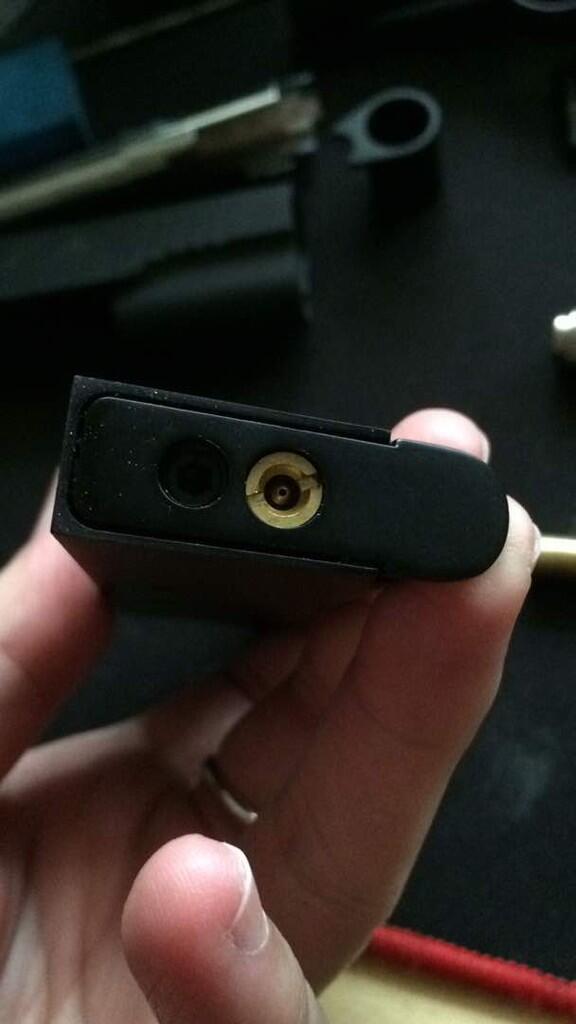 Tipe nozzle yang sama dengan marui tapi nozzle ini dikunci memakai PIN dari samping, sperti nozzle merah hi capa KP05/KP07 meu milik KJ Works, ini sangat jelas, ditambah frame dan BBH nya juga mirip KJW.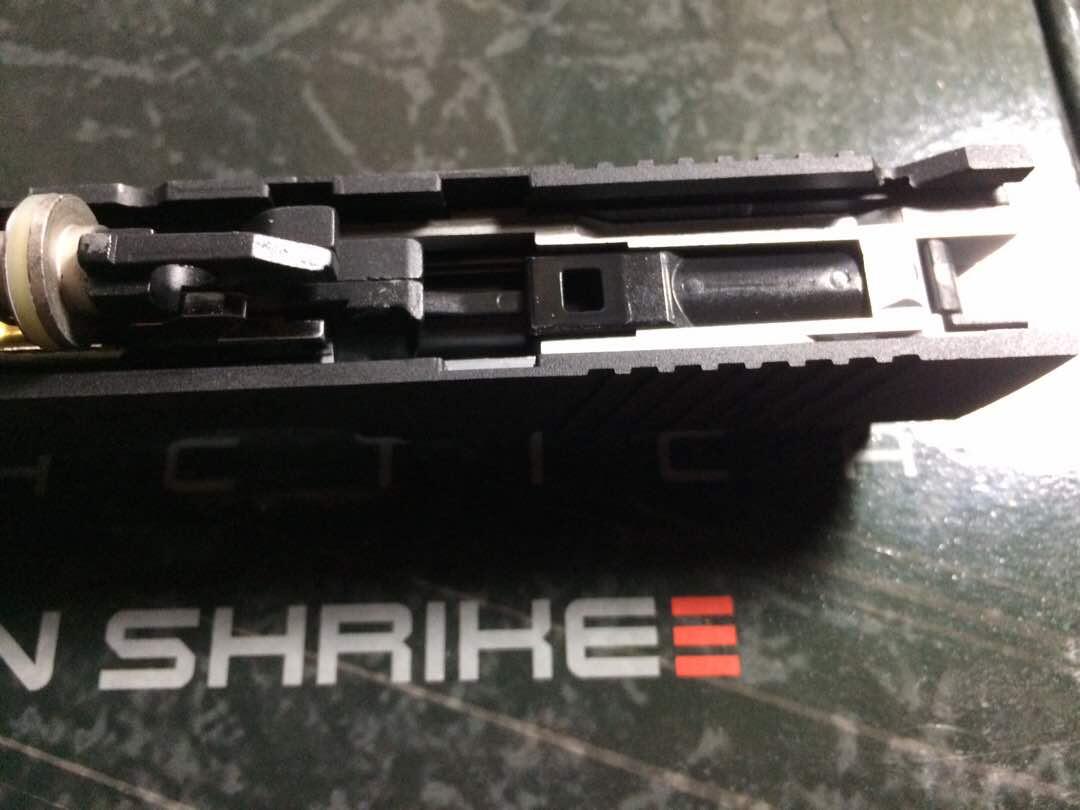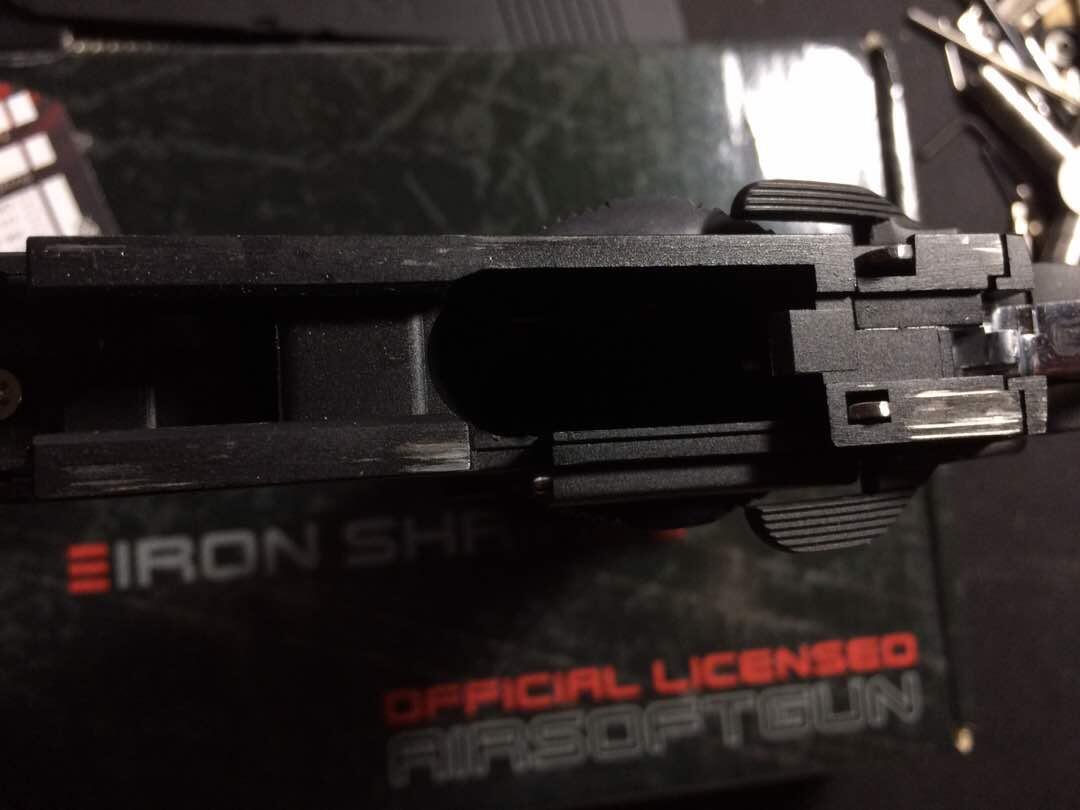 Performance
Untuk performance, sesuai dengan tag spek GBB di awal, FPS awal hanya sekitar 260-300 FPS. Ketika test ini dilakukan, memakai KSC 0.25, Green Gas Armydillo, Jarak 10m.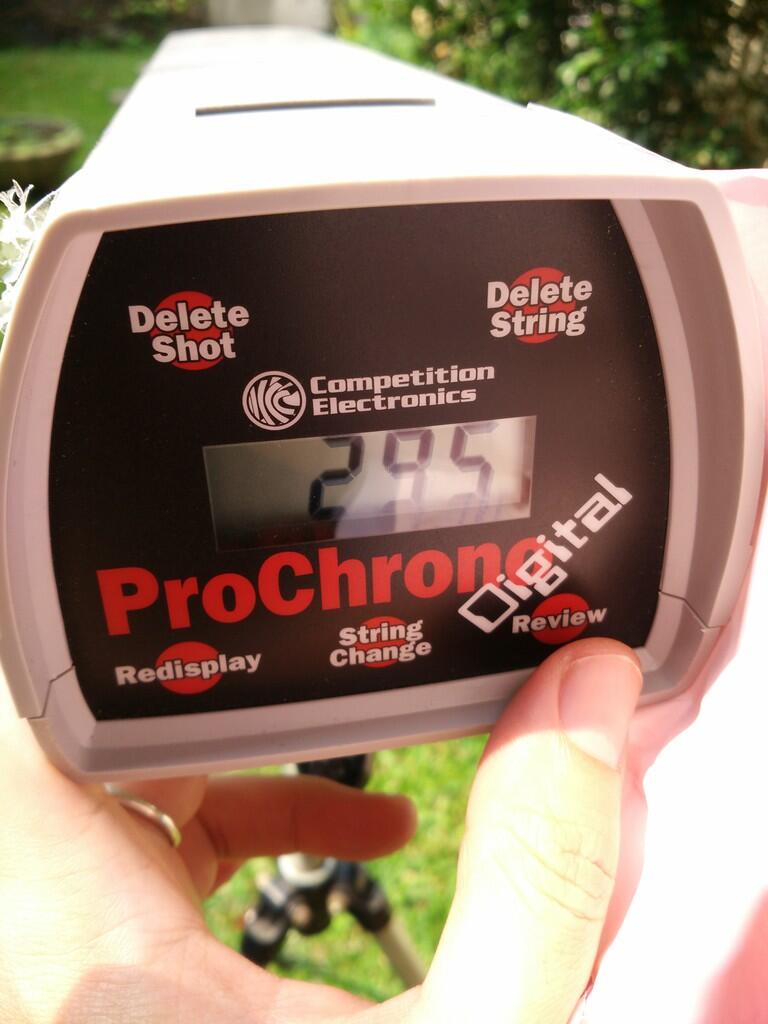 Akurasinya juga cukup bagus, untuk jarak 10m indoor.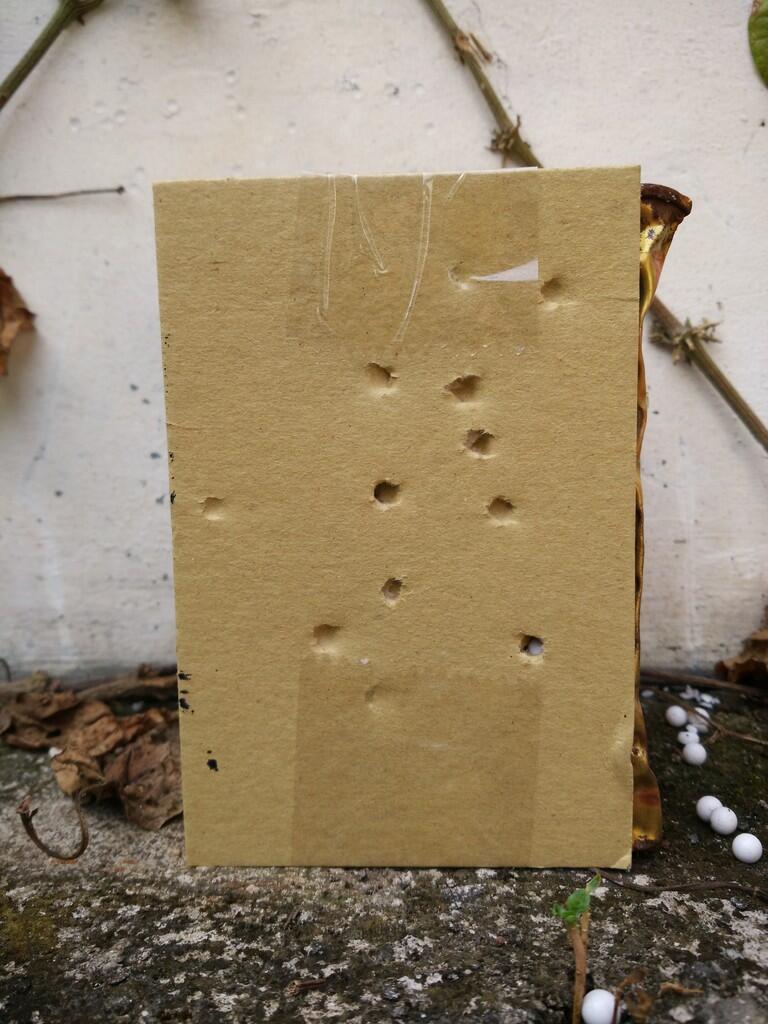 Setelah diganti dan diupgrade, memakai Special Alumunium Piston Head w/oring (custom made), dan Maple Leaf inner barrel and hop up set 112mm, FPS nya jadi segini di 0.25 KSC/Armydillo Green gas.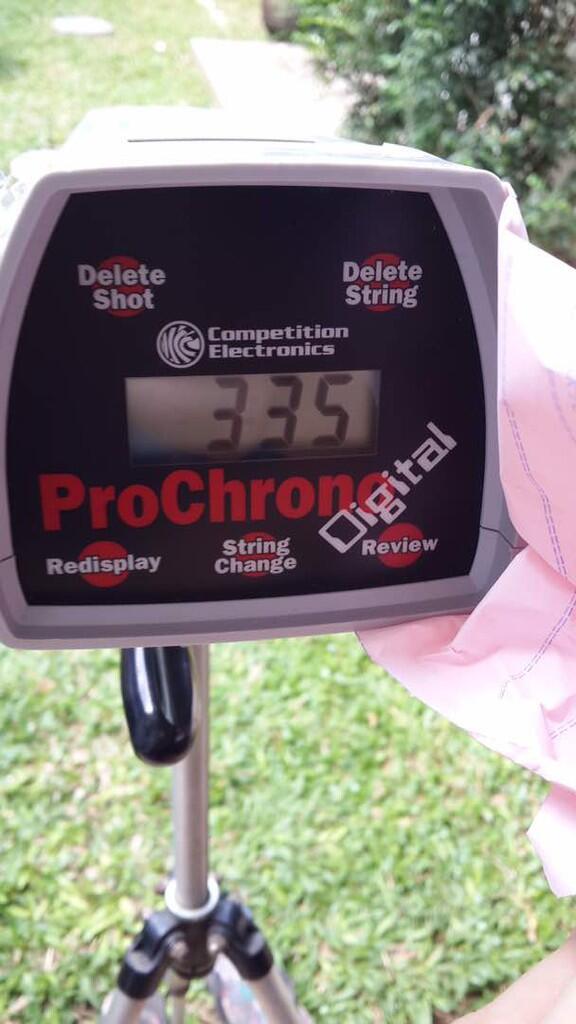 Kesimpulan
Sebuah licensed Guns dengan base yang menganut Marui System, dengan finishing yang lebih baik dari Socom Gear Les Baer (juga memakai KP07 KJ Works), King Arms Predator Custom Iron Shrike memiliki sebuah nilai plus, terlebih markingnya itu dalam, sudah ada magwell yang benar benar berguna, bahkan setelah diupgrade sedikit, mampu menembus 335 FPS/0.25, mungkin 360 FPS di 0.2gr BB.
Definitely must buy item, baik untuk kolektor, ataupun mereka yang ingin mencoba keunggulan speed reload di sebuah SingleStack Gun.